You have gone through many flats in Kottayam and have finally zeroed in on the home of your dream. Now that the biggest challenge is done, another phase of the process begins. Yes, we are talking about decorating your home. We all want to stay up to date with the latest trends that are making a mark globally, and home decor is no exception. So, if you want home decorating ideas that are making their presence felt, read on, for we have picked some amazing home decor trends in flats in Kottayam that you can try in 2019.
Wallpapers have been making their presence felt, and this year too, we will see a lot of wallpapers. However, sober and subtle wallpapers are now giving way to bold and bright ones. Boho designs, large and bold motifs are a trend that many decor enthusiasts are swearing by. These add a sense of drama and character to space, making them a great addition to your home. However, it is important to keep it classy and use wallpapers in controlled quantities and by teaming them with mute and minimal walls to make a statement while keeping the balance in the design of your home.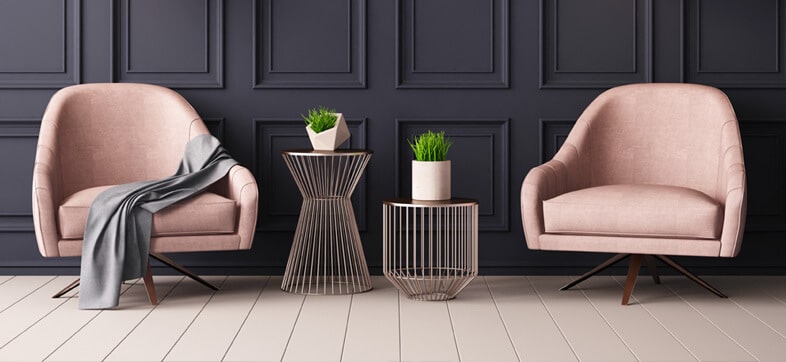 Another trend that is slowly becoming a rage is soft edges. If you are looking for furniture, forget the sharp edges and straight angles and opt for items with organic and soft edges. Round tables, plush ottomans, and sofas with softened and angled edges are some of those home decorating ideas that are being adopted world over mostly due to their simplicity and comfort.
Handcrafted and locally made
Thanks to the internet and the opportunity to connect with many small and local business, more and more people are now opting to go local instead of trying high street brands. While handcrafted items have always had a charm of its own, the awareness and the desire to support individual artisans and entrepreneurs is driving more and more people towards handcrafted products. It could be a hand-woven blanket or a locally made rug- you can score the local markets to get something that is locally made as it is not only cheaper, it is also more eco-friendly and comes with a great cause. If you wish to encourage dying arts and crafts, this is the right time to decorate your home using locally handcrafted items.
We are most certainly living in contrasting scenarios as both bold designs and minimalism are ruling the roost simultaneously. The trick here is to bring a sense of balance between bold designs and simple space in order to create a home that is beautiful yet elegant without becoming too tacky.  Simple and monotone color palettes, mute colored furniture and earthy and sober shades of paint and upholstery are becoming a hit amongst many homeowners who wish to adopt a very simple decor theme for their home. Opting for lots of white, light grey, off white along with decluttered spaces with scant furnishing could be a great way to start adopting a minimal home decor.
Terrazzo or Mosaic flooring is yet another home decorating idea for 2019. You can choose to add this very interesting style of flooring to balconies, semi-open spaces and even indoors in controlled quantities. Quite well suited for warmer temperatures, you can even keep your indoors cool by opting for a mosaic flooring. This vibrant and colorful option to enhance your floors adds all the color one needs in a home, thus offering you a chance to keep the rest of the home minimal.
We hope that your dream home amongst the many flats in Kottayam gets the most fantastic makeover using these really cool home decorating trends that you can use to keep your home on par with homes from around the world.