On the fourth day of the Onam, artists paint their bodies with tiger like stripes and dance to to the rhythms created by Chenda, Thakkil and Udukku. This is one of the many distinct images of vibrancy, festivities, and joyousness that runs in the mind of an individual when he hears the name Thrissur. In history, the city was the first to provide shelter to the three communities that have aided in the flourishing of Malabar, earning it the title "Primum Emporium India" in historical texts. Its rich cultural history and archaeological worth have helped attain the epithet of "The Cultural Capital of Kerala".
Today, it ranks third in terms of urban agglomeration and is a booming centre for commerce. Because of its robust banking, finance, and retail sectors as well as its production facilities for textile, timber, and coir, it is well known for its entrepreneurial and financial prowess. There is a sizable demand for Thrissur flats and villas for sale as a result of the growth in population this has caused. The real estate industry has experienced tremendous growth as a result of the entry of renowned builders. The best builders are those who combine commitment, excellent customer service, and a proven track record of high-quality projects.
Confident Group is one of the biggest builders in Thrissur, having a track record of more than 160 world-class projects. The brand functions by its founding principle of being the most trusted builder in the state. Here are the apartments in the heart of Thrissur from Confident Group:
Confident Ebony at Ramavarmapuram
Ebony is a high-rise in Ramavarmapuram, a calm and serene suburb in Thrissur, which balances luxury and comfort with affordability. It falls into the Confi-Luxe category of homes and provides amenities include an air-conditioned party area, a multipurpose gym finished with a rooftop swimming pool, a kids' play. There are latest security measures in places, such as CCTV cameras, intercom systems, 1 KVA power backup, and 24-hour security guards. Ramavarmapuram is rightly situated in the heart of Thrissur close to all amenities such as Hospitals and Educational institutions. Freshwater is always available because of the Thanikkudam River, which flows close to Cheroor. Future growth in demand for homes in the area is guaranteed by the city's IT boom brought on by the development of Koratty's Info Park.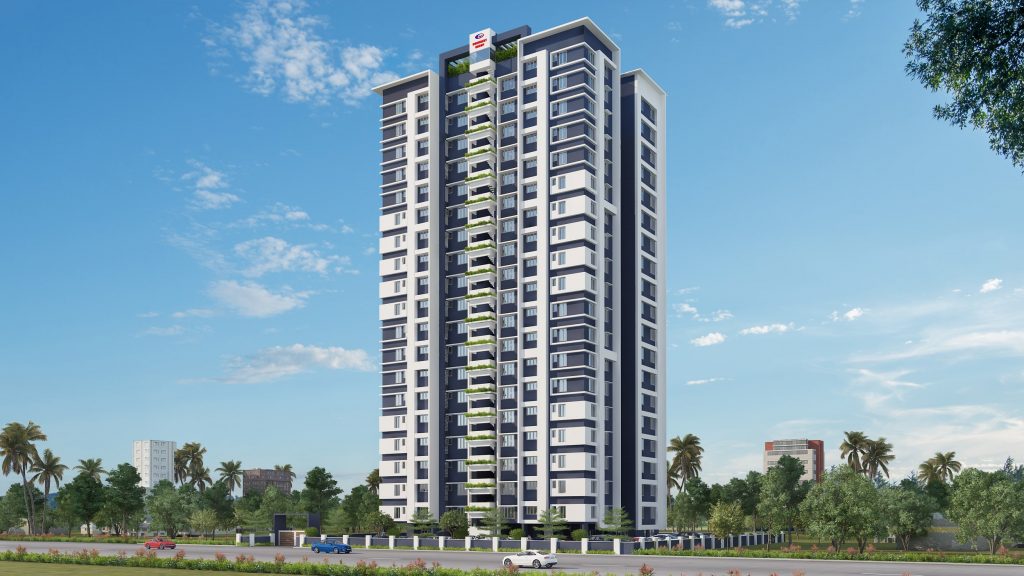 Confident Lotus at Aranattukara West Fort
The most prominent building company in Kerala, Confident Group, has built the luxurious high rise Lotus in the Aranattukara West fort. Nearby institutions include Jubilee Mission Hospital, the School of Management Studies, and the School of Drama and Fine Arts. Within a 5 km radius, Shobha City Mall and Salex Mall are located to meet all of the locals' retail and leisure needs. Chettupuzha Aranattukara Road is the route that leads to the area. The 2.6 km away Thrissur Railway Station, KSRTC Bus terminal, and Sakthan Stand are the closest transit hubs (3.5 km away). The distance to the Cochin International Airport is 55 kilometres. Both socially and economically, the area has advanced substantially. Thus ensuring that the buyer of apartments for sale in Thrissur benefits from a lifetime asset that will command a significantly higher price in the future.
Confident Maple at Christopher Nagar 
Falling within the budget apartment category of Smile Homes, is Confident Maple. Confident Nagar is one of the most sought after locations in Thrissur, with close proximity to major educational institutions, hotels, hospitals with excellent connectivity to Railway station, KSRTC bus stand, State highway etc. The Govt. College, Swaraj Round and Manorama Junction is well within a 4 km radius. 
A new era of extravagant luxury is introduced by the beautifully landscaped common areas, approach roads, gardens, car wash area, visitor lobby, fitness center, swimming pool, kids' play area, multipurpose hall, and party area. It is furnished with top-notch fixtures and materials and has a sophisticated waste management system. A fire alarm and an earthquake alarm have been installed, there are security guards on duty around-the-clock, and there is an intercom system available for use in the building's common areas.
Summing up, Thrissur strikes the perfect mix between being a bustling urban centre with a wide range of job opportunities and quiet residential neighbourhoods tucked away in the beautiful countryside. The ideal home combines a quiet and convenient location with high-quality construction, easy upkeep, and friendly customer service.
A wonderful investment is a property from the right builder because it blends modern comfort with practicality and ensures an investment that is inflation-proof and whose value is anticipated to increase greatly in the future. The largest builder in Kerala, Confident Group, is the developer of the Ebony, Lotus, and Maple apartments in the centre of Thrissur. Make an appointment to visit today and start the process of purchasing the home of your dreams in Kerala's cultural centre.