Searching for ideal bedroom design ideas? Look no more.
Making sure that your bedroom is perfectly designed to exude your personal style, comfort and still keeping it functional is no easy feat. Needless to say, one cannot use the same design principle as used for the rest of the home. So, here are some simple tips on how you can achieve the ideal bedroom design.
1. Keep it personal
Your bedroom is your personal space. It is not often up for display for your visitors to see. It is a space that you use to relax, unwind and retrospect, hence it is of utmost importance that the design you adopt for this room is personal. The colours used, patterns, materials etc should be something that you relate with. You could be a boho soul, or the one for minimalism- a little self analysis will help you outline an ideal bedroom design that will help you create a space that screams you.
2. Keep it clutter free
This is one principle that works for the entire home and is of no exception here. It would be most ideal to separate your closet area by creating a walk in closet, leaving a clear space for the bed and lounging area. However, not everyone may have access to a lot of space. If you do not have enough space to have an exclusive walk in closet that encloses all the storage, opt for under the bed storage, sleek and simple wardrobes and closed storage to make the space look clean and invoke a sense of calm. Clutter can often lead to restlessness and anxiety, so let go of this if you truly wish to create a space that is relaxing.
3. Lighting and ventilation
While natural lighting and ventilation is a must for every part of the home, one has to modulate the external influences in this particular space. You might be a late riser, and would want to keep the outside noise and natural light at bay- in such situations it would be clever to use multiple layers of curtains. Use the block out curtains to make your room more cosy and comfortable. You should also add a layer of sheer curtains to bring in light during the day, ensuring that your room soaks up the goodness of the sun.
Likewise, when it comes to artificial ventilation too, special care must be taken to install the right fixtures. If you have a bedroom that is large enough to accommodate a study area, lounging area and a sleeping area- provide ambient lighting in the sleeping and lounging area with the use of night lamps, hanging lamps, floor mounted lights etc. While the study and dressing area should have more functional lighting suited for dressing up and reading, working etc.
If you have a smaller space, use a combination of ambient and functional lighting to ensure that there is enough soft light when needed and enough bright light when the need arises.
4. The right palette sets the mood
While most often more romantic and soothing colours are preferred, there has been definite rise in the use of more formal colours like greys, shades of green etc. Some colours might not be suited for bedrooms, so pick a colour palette that will help you relax and sooth your mind after a long, tiring day.
If you are someone who enjoys minimalistic colours and designs, opt for a simple and neutral palette and add a pop of colour in the upholstery. This trick never fails to make the space more inviting and relaxing without necessarily being over the top or garish.
5. To pattern or not to pattern
Patterns can be a really tricky inclusion in your bedroom. While one too many patterns kill the ambiance and make the space look cluttered, complete lack of patterns or designs can make a space seem dull and impersonal. It is recommended to opt for a single pattern, or a combination of a few that make their presence felt periodically, creating a theme in the room.
For instance, if you enjoy floral prints, add sheer curtains with floral motifs and use floral cushions to give them company. Keep the rest simple. Not only does it highlight the patterns, it also makes the room look neat and well designed.
6. Create a focal point
Whether it's the floor mounted lamps or those knick knacks from your travels, create a focal point in your bedroom that draws the attention of the user. Create a wall with photographs or artwork by your kids, or an artist that holds a special place in your heart, or add the heirloom rug that has been a pride of your family. Adding interesting elements like this add a sense of drama and interest to your room, making it more inviting for the inhabitants.
7. Textures and comfort
Blend varied textures to create an interesting design in your room. It adds character and dimension to your room. Keep in mind that an ideal bedroom design is one that is all about comfort. So everything you add should be chosen keeping your comfort in mind. Add comfortable linen, cushions etc to make the room more cosy and inviting for the users.
8. Mirror, mirror on the wall!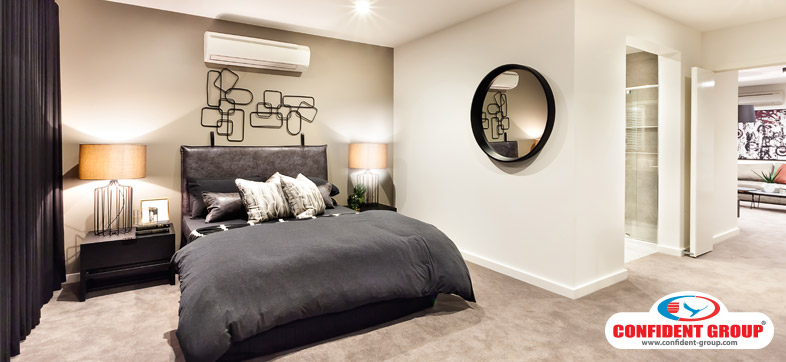 No bedroom can be complete without a dressing area. Whether it's a walk in closet or a small area dedicated to dressing, a good mirror with complimenting lighting is highly important. Ensure that your wardrobes are designed with different sized shelving to accommodate varying items that need to be stored. Ensure that you have sufficient storage for bedroom linens, bath essentials, laundry, accessories, a secure and reliable safe etc. Installing mirrors strategically can accentuate your bedroom and make it look larger too.
9. A touch of nature
Make sure you are adding a touch of nature, it could be as a succulent in a cute container or freshly cut flowers to make the space more lively. Adding plants is a great way to make the space more personalised, and the health benefits of adding indoor planting cannot be overlooked.
10. The basics
In times when technology is a huge part of our existence, the basics that we may need have been altered. While you can choose your bedroom to be a "technology free zone", discouraging the use of phones etc, it is essential to provide for the same. Ample amount of plug points for chargers, lamps, simple appliances etc should be installed where essential. Place them so that they are conveniently placed and safe for children too. Apart from this, providing a dedicated work area, a reading nook etc are important depending on your personal preferences.
While all the points above are focused on helping you achieve an ideal bedroom design, the key factor in all this is you. Each bedroom is as different as the person using it. The colours, art, textures etc that appeal to you may be completely different from others, so ensure that every item added is done so keeping only your preference and taste in mind.