Kid-centric homes are exclusively designed to offer a friendly and safe environment for growing children. With a range of kid-centric amenities that help in the overall well-being of kids, these types of homes are all set to lure home-buyers in this modern era. 
During the pandemic, most of the parents had a tough time managing their children, who had to stay indoors with no opportunities for play and leisure. In such situations, living in a kids-centric apartment or home can be of great benefit, as your children can enjoy many indoor and outdoor games without stepping out of the gated community. Be it the hygienic environment, enhanced safety features or the spacious play areas, kids-centric homes ensure a healthy and comfortable ambience for children of all age groups. So if you are someone looking for an ideal home for your family, then it is most recommended that you choose a kids-centric home. 
Now you may wonder how to find a kids-centric home. As many of you will not be familiar with the term, let us now discuss what are the distinguishing features of a kid-centric home. 
Leisure & Recreation facilities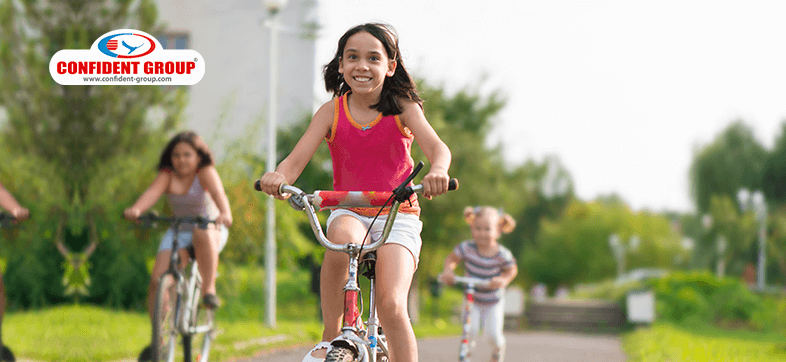 Children are now getting more addicted to gadgets and TV shows. Back in the olden days, kids were healthier and active as they used to have good physical activity. But nowadays this trend has changed and playing games such as football, cricket, basketball, etc. have become a luxury. This is where a kid-centric home makes a difference. Housing projects equipped with spacious play areas, cycling tracks, cricket pitch, tennis court and other leisure amenities are ideal for families with children. You can find a lot of apartments and villa communities with such in-house facilities catering to the needs of growing children. 
Enhanced Safety measures 
Another important feature of a kid-centric home is the provision of advanced safety measures such as round-the-clock security and CCTV surveillance. Automated security systems are also in trend nowadays to ensure maximum safety of the inhabitants. This is highly beneficial for working parents, as they don't have to worry about their kid's safety while they are at work. Some modern apartments are also equipped with child-care facilities to make the life of working parents hassle-free. With in-house play facilities and parks, kids can enjoy a fun lifestyle without leaving the house premises. So while searching for a new home, don't miss out on these aspects as it will have a great impact on your day-to-day living. 
Perfect location near schools
While looking for a kid-centric home, the location is one of the most key features you should consider. Being in close proximity to reputed schools & colleges will ensure a convenient life for both the parents and kids. Understanding this demand, realtors are focusing on building residential near to schools and educational institutions. A home close to school means you don't have to experience the menace of traffic and pollution for long hours. A kid-centric home is one that gives your children a positive and friendly atmosphere for learning and growth. Besides all this, there should be good hospitals and healthcare facilities available near to your home, especially if you have small kids. 
As a parent, if you are looking for a perfect abode tailor-made for your little ones, then look no further as we offer a range of kid-centric homes across various locations in Kerala. Our projects are placed in some of the most sought-after localities with excellent connectivity to schools, hospitals and other necessary facilities. These homes are designed to bestow a wholesome living environment promising a joyful childhood for your little ones. Get in touch with us to know more about our projects.