Investing in real estate is considered to be one of the safest and most beneficial long term investment plans. Since the time of our forefathers, land is considered a valuable asset that we constantly strive to own. If you are someone who has never forayed into this sector before, buying a property can be an overwhelming affair. Since investing in property often calls for the savings of a lifetime, it is imperative to understand the legal aspects of buying a property to ensure a smooth transaction
Here are a few important legal aspects to consider before investing in a home.
1. Verify the Title Deed
2. Property Tax Receipts
3. Check Encumbrance Certificate
4. Conversion Certificate or KLU Certificate in the case of converted land
5. Sanctioned Building Permit
6. CRZ Clearance certificate if applicable
7. Environmental Clearance
8. Mandatory No Objection Certificates (NOCs)/ Sanctions
9. Check RERA registration
10. Occupancy Certificate
1. Verify the Title Deed
Title deed is one of the most crucial documents that legitimise the ownership of the property. A
person cannot sell his property until the title deed is clear of any defects or shortcomings. You can
search for the title deed at the Sub-registrar's office and verify the legal status of the property. The
title should be free of any disputes, and you should ascertain that the builder fully owns the
property. And Physically check the document under Builder's or Land Owner's custody to ensure the
Property is not PLEDGED.
2. Property Tax Receipts
The builder must pay the land tax of the property every financial year which ensures the correct extent, nature and title of the land. So when you are verifying the legal documents, don't miss to review the land tax receipts. The builder must pay all the property taxes before selling a property. Failing which, you may become liable to pay the same. Thus, you as a buyer must ensure that all the taxes are taken care of by the builder before purchasing the property. One can gain access to all the details from the sub-registrar, where you can learn more about any legal dues or similar instances that might influence your purchase.
3. Check Encumbrance Certificate
The property that you wish to buy should be free of any legal disputes and dues. An Encumbrance
Certificate is a document issued by the Sub-Registrar that reflects the encumbrance on the property.
You can contact the Sub-registrar office to learn more about the legal history of the property. Upon
request, you can get the encumbrance certificate of the property which will have details about all the
registered legal dues and transactions. This could be applied and obtained online which makes us to
ensure that the Land is free of encumbrances and this makes sure that the Property is free of any
Encumbrances / Liabilities / martgage. It is also a clear Title evidence Certificate.
IRIS EC From 1.1.1986 – 9.6.2017
View More
CERTIFICATE-OF-ENCUMBRANCE-ON-PROPERTY
View More
4. Conversion Certificate or KLU Certificate in the case of converted land
If a building is going to be constructed on agricultural land, a Conversion certificate and No Objection Certificate (NOC) is mandatory to commence the construction. These documents sanction the conversion of agricultural land for residential purposes. Ensure that the property you are buying is not constructed illegally without the issue of NOC and Conversion certificate from planning authorities. Also request and check the latest Possession / Location Certificates, Basic Tax Receipt (BTR) copy which will give you a clear history of the land.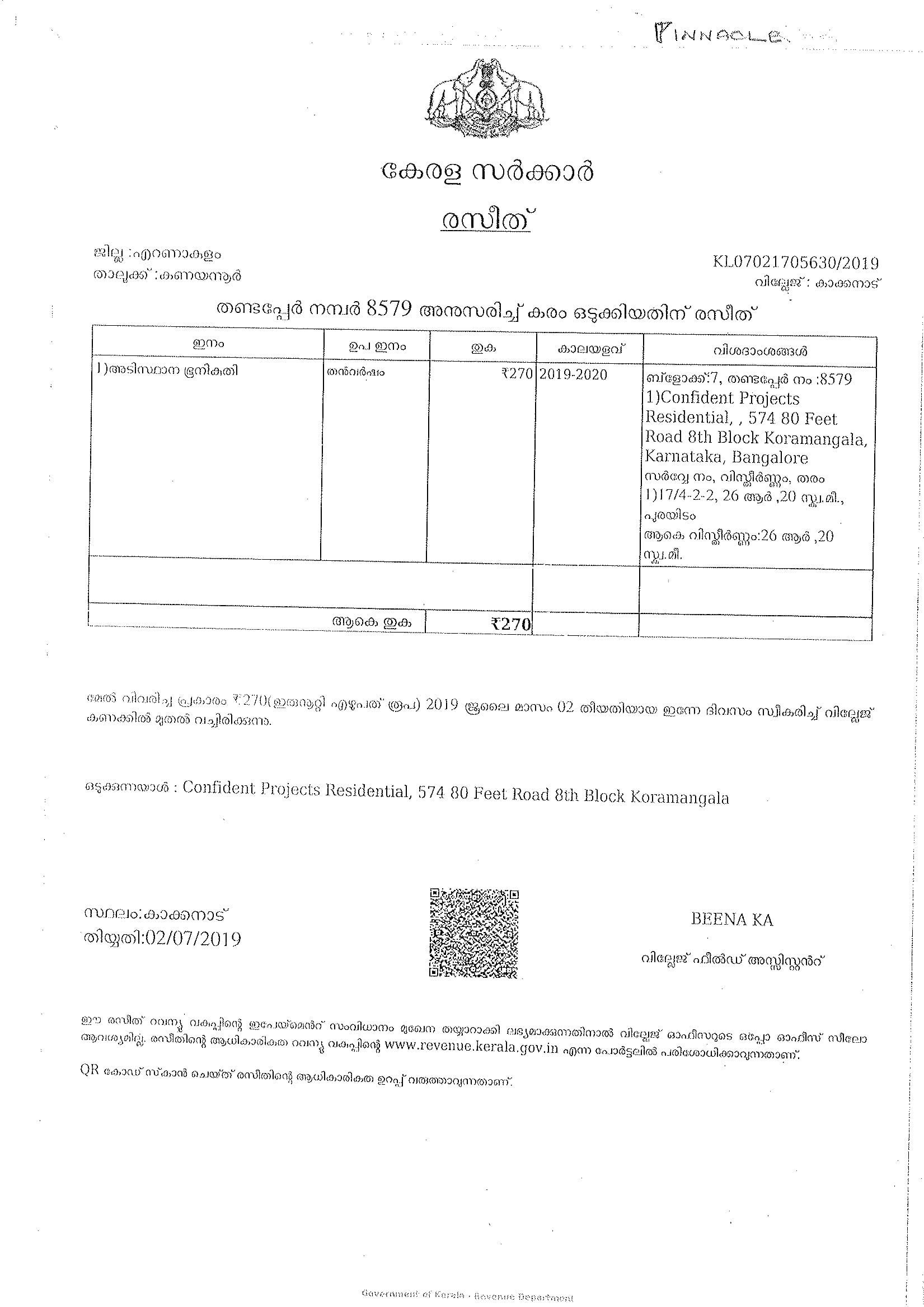 5. Sanctioned Building Plan
Many builders may give fake information about the developments of a locality to convince homebuyers. Any property must possess a sanctioned building plan approved by the regional building development authority to start the construction. This sanctioned building plan is issued by the authorities only after obtaining necessary documents from the developer, which is in compliance with the existing legal building norms. Make sure that you verify this document to avoid legal complications in future.
6. CRZ Clearance certificate if applicable
If you are interested in buying a waterfront property, be aware of the existing Coastal Regulation Zone (CRZ) rules defined by the Union Environment Ministry. Any property which is located close to water bodies such as lakes, rivers, sea, canals, mangroves (100 sq.m or more), etc must get a CRZ clearance certificate from Kerala Coastal Zone Management Authority (KCZMA). In case if the building is going to be constructed near the water body but not coming under the CRZ violation zone, then the builder must possess NOC from KCZMA. These rules are aimed to ensure the conservation of the coastal ecosystem. The restrictions vary depending on various criteria such as population, ecological sensitivity, distance from shore, etc. The buyers can access CRZ maps and other legal information by visiting the KCZMA website. You can also approach a legal property advisor to gain more insights about this.
IRIS LOCN.7.5.19
View More
Kerala Coastel Zone Managment Authority
View More
Possession 7.5.19
View More
7. Environmental Clearance
If the construction area is above 20000 sq.m., a clearance certificate from the Forest and Environmental Department of Central Government must be obtained. This is another important document to check before purchasing a property.
Environmental Clearance
View More
8. Mandatory No Objection Certificates (NOCs)/ Sanctions
1. Fire Department: Initial NOC before construction and final NOC after completion of the project.
2. Pollution Control Board: Consent to establish before construction and consent to operate after construction.
3. Aviation Clearance – From the airport authority before construction, if the project area is within 20 KM radius from the airport.
4. Railway authorities: If the project is located close to the railway line, the builder must get NOC from the concerned railway department prior to construction.
5. National Highway NOC : If the project is by the side of the National Highway (Direct access from NH)
PCB Cobsent to Est
View More
PCB Const.to Operate
View More
Symphony PCB CG Est
View More
9. Check RERA registration
From 1st January 2020 onwards, all real estate developers are bound to
register their ongoing and upcoming projects under the RERA (Real Estate
Regulatory Authority) Act to ensure that the projects are in line with the
current building regulations and laws. RERA registration is applicable to all
projects where the land to be developed is 500 sq.m or more, and the number
of apartments is 8 or more inclusive of all phases. All projects for which the
occupancy certificate or completion certificate has not been issued are also
required to get RERA registration. So if you are buying a new property, always
check and verify the RERA registration number. All ongoing projects should be
registered under RERA on or before 31 st March 2020 and all new projects
should be marketed only after getting their RERA registration. Starting from
April 1 st 2020 do not buy any property without checking RERA registration.
10. Occupancy Certificate
Occupancy Certificate or Completion Certificate is a document issued by the
local planning authorities to confirm that the building is constructed in
compliance with the stipulated rules and is ready to be occupied. Without this
certificate, a building is not considered as legally fit for use by tenants.
Building Permit
View More
Occupancy Certificate
View More
Above all, a clear legal report of the builder could be prepared, which will have
a complete legal check-list and report pending documents if any.
We hope that this legal checklist will help you while searching for a new home
in Kerala. Reputed builders in Kerala will ensure that all the necessary legal
documents and clearances are obtained from the authorities. A builder should
ideally maintain transparency in all legal transactions. We advise you to consult
a qualified legal advisor before investing in a property in Kerala.
T A Joseph
MD & Founding Director – Confident Group