Kochi is one of the fastest-growing tier-II cities in India located on the South-West coast of the country. The ancient port city which is referred to as the economic capital of Kerala has evolved as a hotspot for real estate investment. The Kochi Metro that came into operation a few years back has given a much-needed boost in terms of infrastructure and ease of transport.
With the changing cityscape and the rapidly growing real estate sector, one is spoilt for choice with the varied options available for prospective homebuyers. With constant research and analysis of the growing city, we have identified the top 6 localities to invest in Kochi as listed below. 
  Near Infopark
  Aluva
  Kakkanad
  Vennala
  Kaloor
  Edappally
Being one of the key contributors to the changing skyline of the city, Confident Group proudly presents an exclusive range of apartments and villas in Kochi located in these prime areas. 
Let's discuss why these localities are considered the best locations to invest in Kochi. 
1.NEAR INFOPARK:
Established in 2004, Infopark is a state-of-the-art IT hub located in Kakkanad, Kochi. It is a home for some of the biggest global corporations like TCS, Wipro, UST Global, KPMG, E&Y, Xerox, etc. SmartCity Kochi is another Technology hub located near Infopark. The inception of these IT/ITES parks has led to massive growth in the real estate sector. The presence of reputed educational and healthcare institutions of global standards near Infopark further enhances the value of the area.
Confident White Berry is one of the newly ongoing apartment projects in Kakkanad located very close to Infopark and Kochi SmartCity. If you are looking for a new launching home, Confident Pinewood is an ideal choice with close proximity to the IT parks. You can also consider ongoing premium villa projects like Confident Iris near Infopark which offers luxury living in a serene locality.
2.ALUVA:
A suburban area abutting the city, Aluva is yet another investment hotspot in Kochi. Home to the Cochin International Airport and located just a few kilometers away from mainland Kochi. A major transportation hub and an industrial epicenter, Aluva acts as a corridor connecting the highlighted districts making it all the more desirable. 
Confident Symphony located next to Pulinchodu Metro station and Confident Oberon located near UC College are two ready-to-occupy apartments available in Aluva. Both the projects offer excellent connectivity and convenience to the residents.
3.KAKKANAD:
Home to major government institutions like Ernakulam Civil Station, Regional Transport Office etc. Kakkanad is one of the most preferred destinations for prospective homebuyers in Kochi. Also owing to the presence of IT parks, Kakkanad is considered an ideal location for a real estate investment.
Along with its reputation as an IT capital, it boasts of the presence of many reputed hospitals and clinics and exclusive educational institutes making Kakkanad a locality that provides a wholesome environment for its residents.
If you like to stay close to Infopark, SmartCity and CSEZ, you can consider investing in Confident Pinnacle, an ongoing apartment project in Kakkanad by Confident Group.
4.VENNALA:
Vennala near Palarivattom Bypass is an ideal investment destination in Kochi owing to the proximity to National Highway and other landmarks like Oberon Mall, Lulu Mall, Ernakulam Medical Center, etc. It is strategically located in the city center with easy access to both the main city and the IT hub in Kakkanad. Apartments in this location will possess good value as it is just a few minutes drive away from Vytilla mobility hub from where transport buses are operating to various parts of the state.
5.KALOOR:
If you are looking for a property which is close to Ernakulam main town, then Kaloor is one of the most favored investment localities. Apartments in this location will enjoy high demand in terms of rentals and return on investment. Kaloor is very close to Ernakulam North railway station and other landmarks like Town Hall, Lissie Hospital, Renai Medicity, Changampuzha Park, etc. As it is a well-connected locality with good railway and road networks, an apartment in Kaloor will bring you great benefits whether you are planning to live in it or buy as an investment.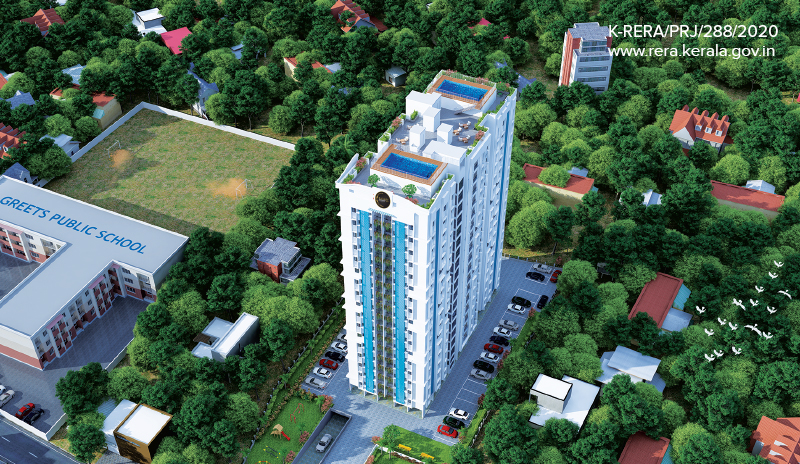 Confident White House, a newly launching apartment project in Kochi is located at Mathrubhumi junction in Kaloor. This brand new project will be a new luxury landmark in the city which is just a stone's throw away from JLN Stadium and Metro station.
6.EDAPPALLY:
Edappally has seen a rapid rise in the number of commercial and residential developments making it one of the most happening places in Kochi. With the establishment of Lulu Mall and Oberon Mall, Edappally has become one of the most preferred destinations for those looking for a new home. Various reputed educational and healthcare centers are present in this area making it one of the choicest places to buy a flat in Kochi. 
Hope you found this article on the best places to invest in Kochi helpful. 
Take your pick from these diverse locations in Kochi to buy your dream home. A home is a wise investment of your savings promising healthy returns in future. 
Enquire today for the best possible deal and other unique benefits.